Back in August I visited Bath with my eldest to see the ships Bath Iron Works was creating. This included the Zumwalt-class destroyers USS Michael Monsoor and USS Lyndon B. Johnson, as well as the Arleigh Burke-class destroyers, USS Hudner and USS Daniel Inouye.
The best way to photograph the ship yard was to take the Maine Maritime Museum's hour long Shipyards & Lighthouses boat tour.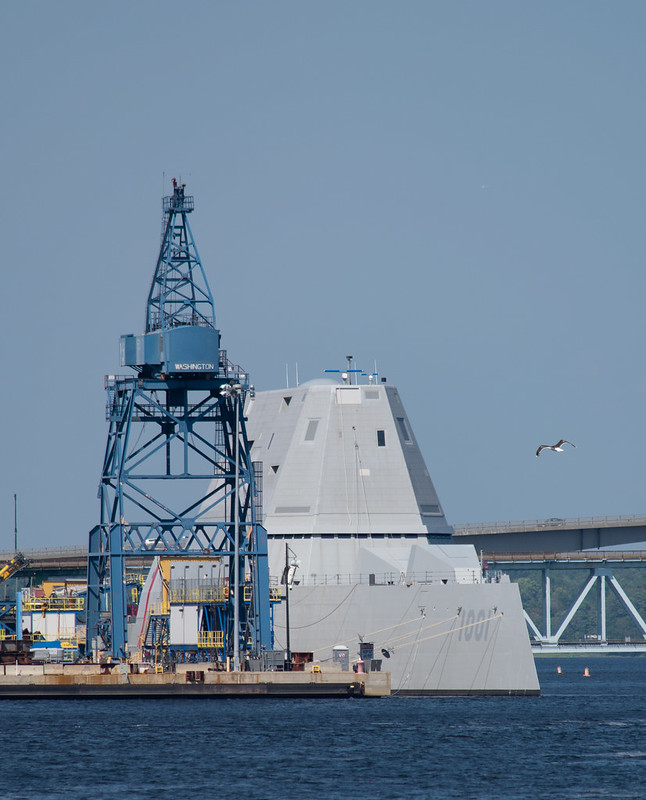 The tour turns away from the ship yard and travels down the Kennebec River before returning, sailing past the ship yard to the Sasanoa River, turning around and traveling past Bath Iron Works to the museum.
I started the voyage with my 55-300mm lens. I got some photos of the various buildings along the river as well as some pictures of the ships under construction.
As we approached the ship yard, I switched to my 18-105mm lens. Unfortunately, I realized too late that the 2nd lens was set to manual mode with vibration reduction turned off. Ooops! Reminder to self: recheck that the camera and lenses are setup the way they should be before leaving.
Later in the day, we surveyed various vantage points across from the ship yard. After parking at the Dairy Queen near Sasanoa Point, I walked along the Sagadahoc bridge (Route 1) over the Kennebec. While very few people walked over the bridge while I was there, there wasn't much space for a tripod, so I shot handheld. With the late afternoon sun high in the sky and the air over the river hazy from the August sun, very few of the pictures came out well.
On a return trip to see the LBJ, now that it is in the water, I'll aim to arrive before sunrise and try using a tripod since that helped with the USS Hudner pictures. The rest of the pictures are at my Bath Iron Works photo album.